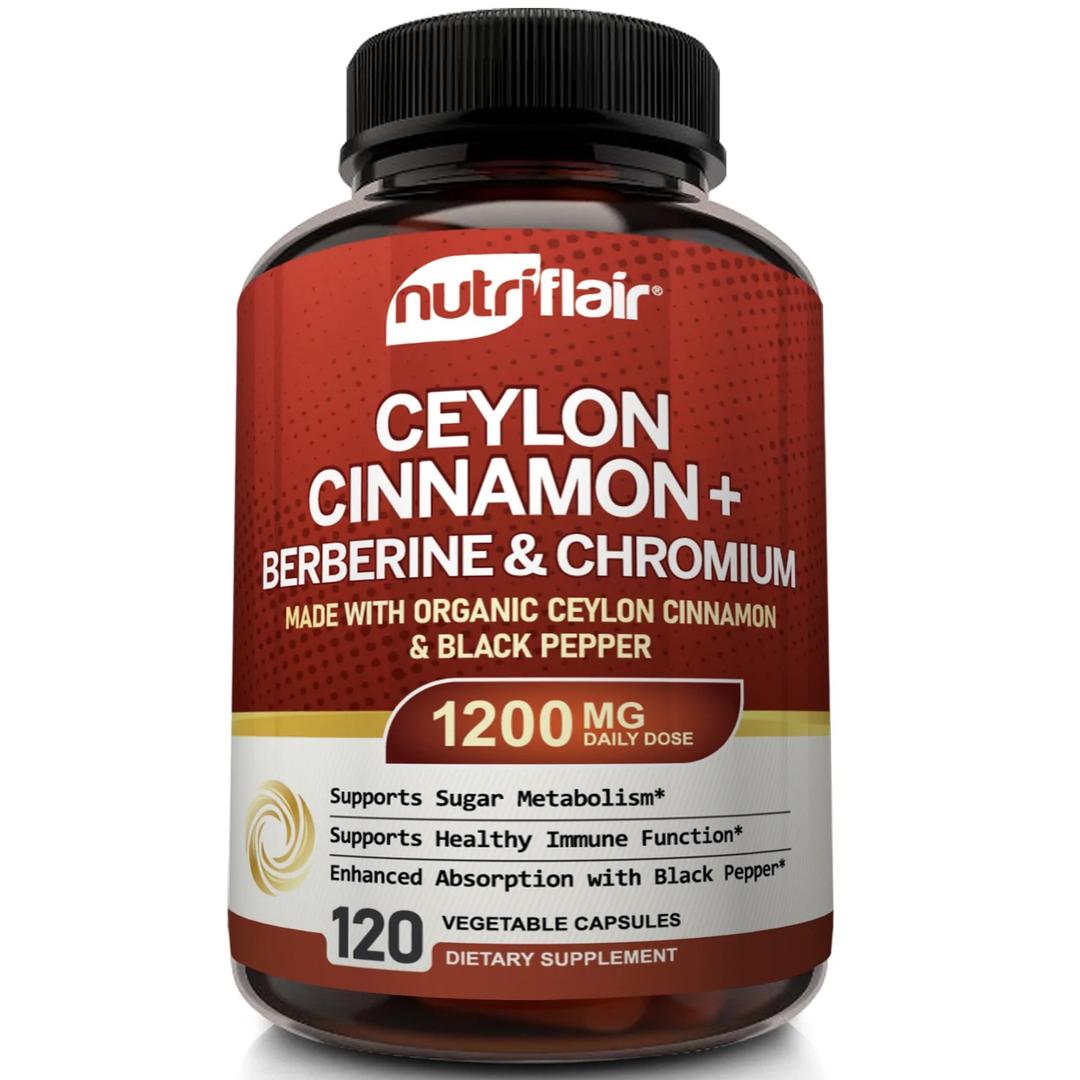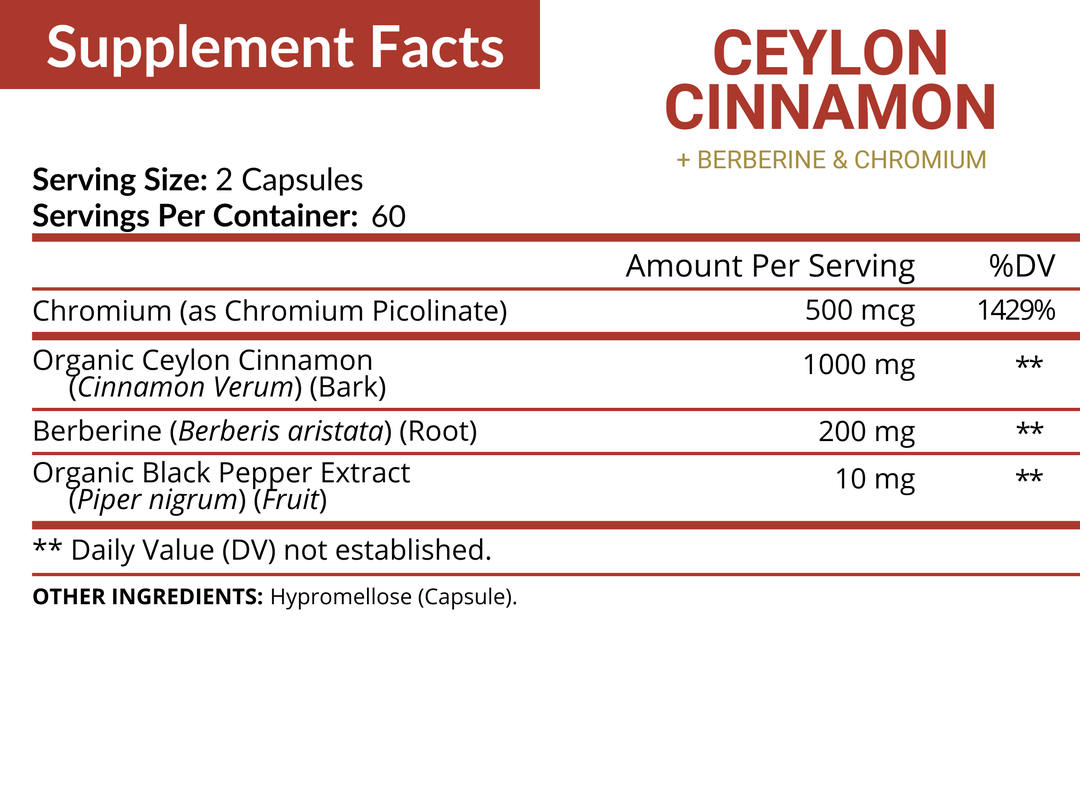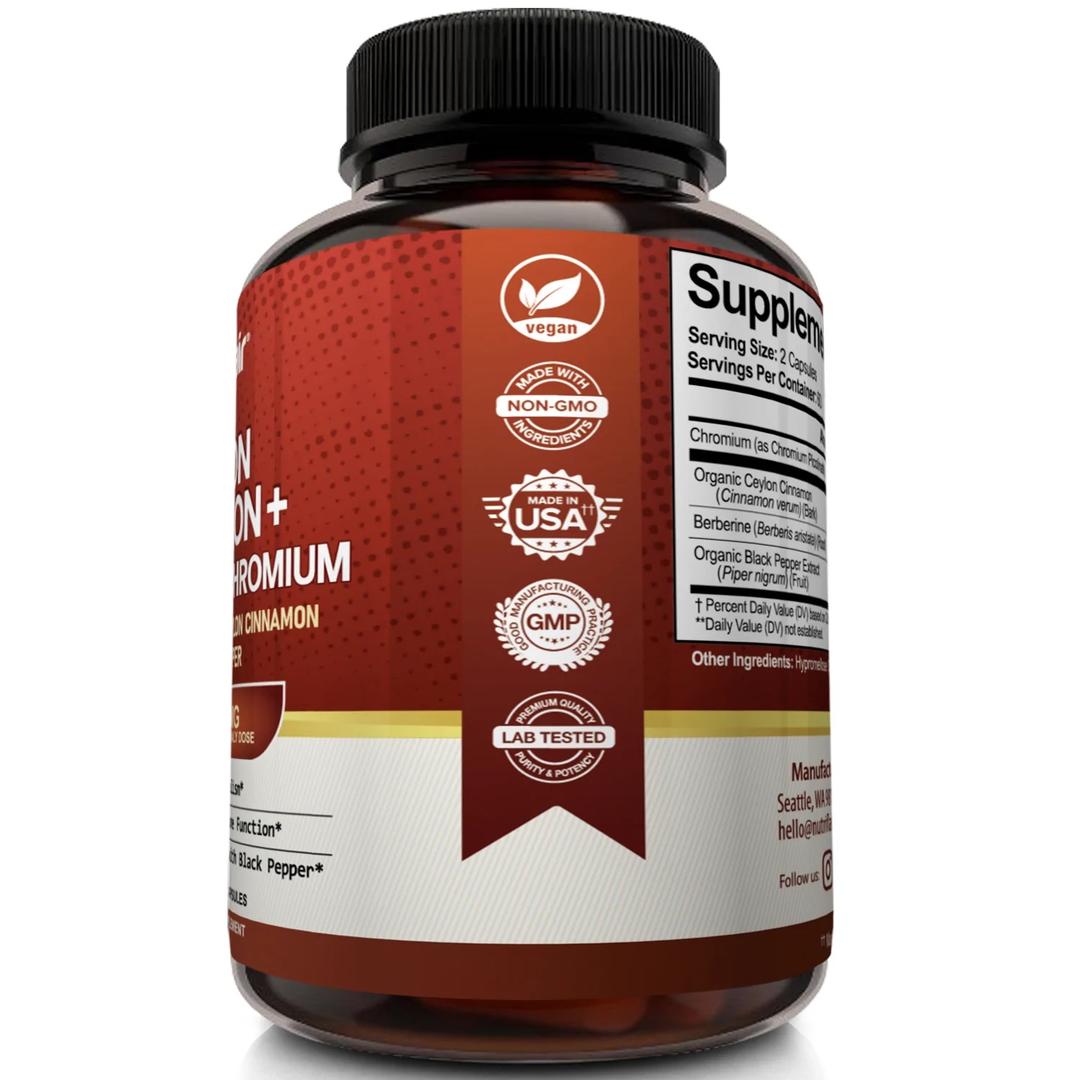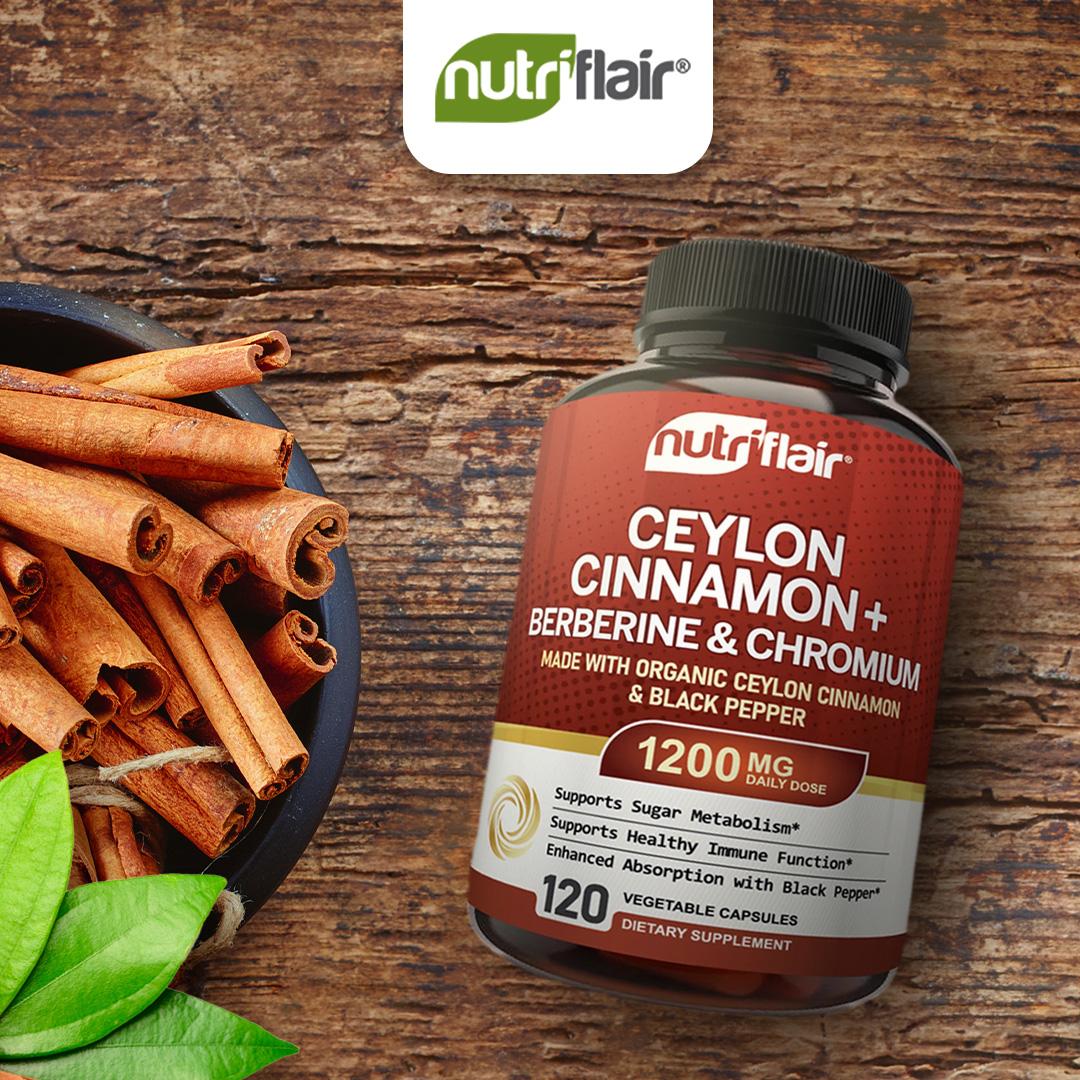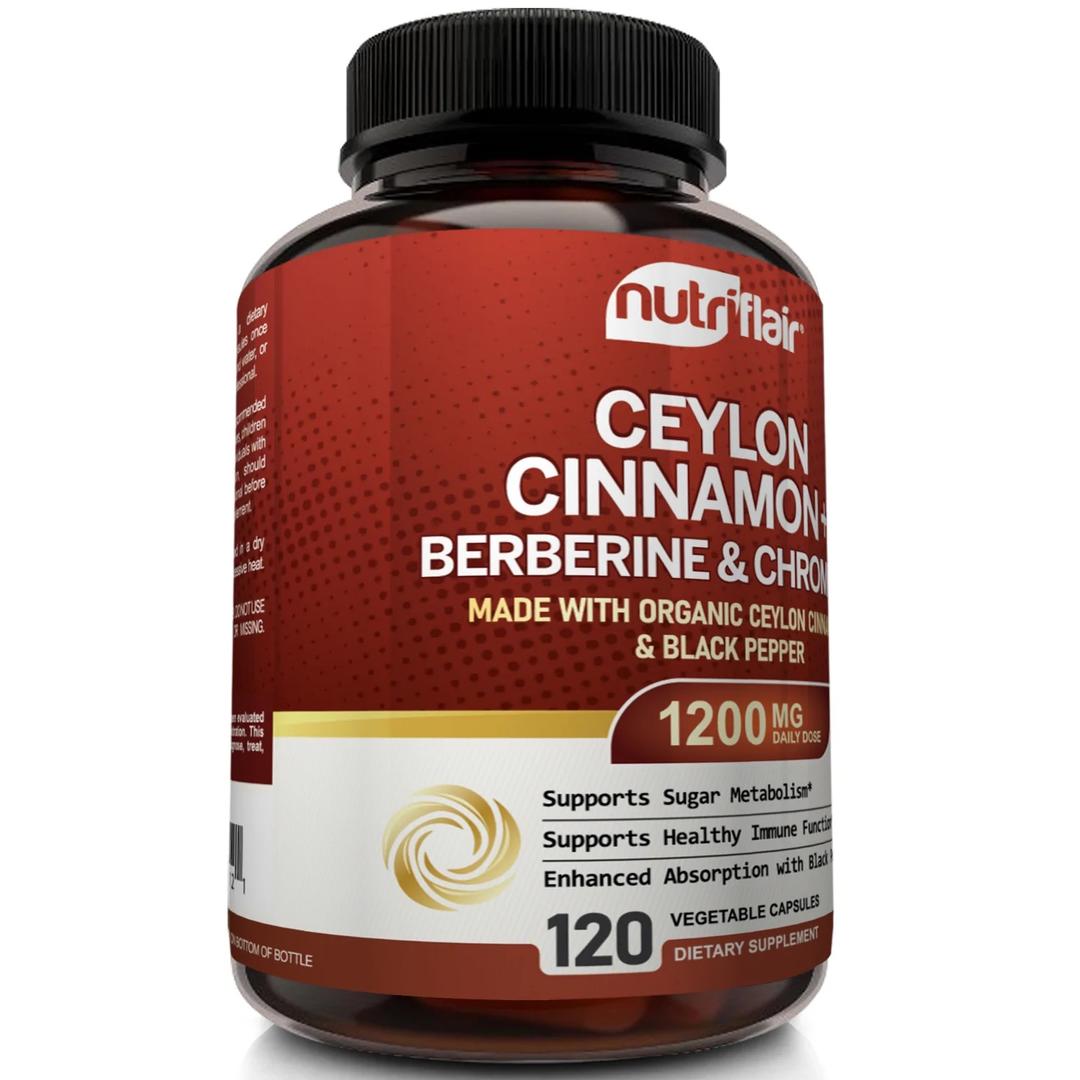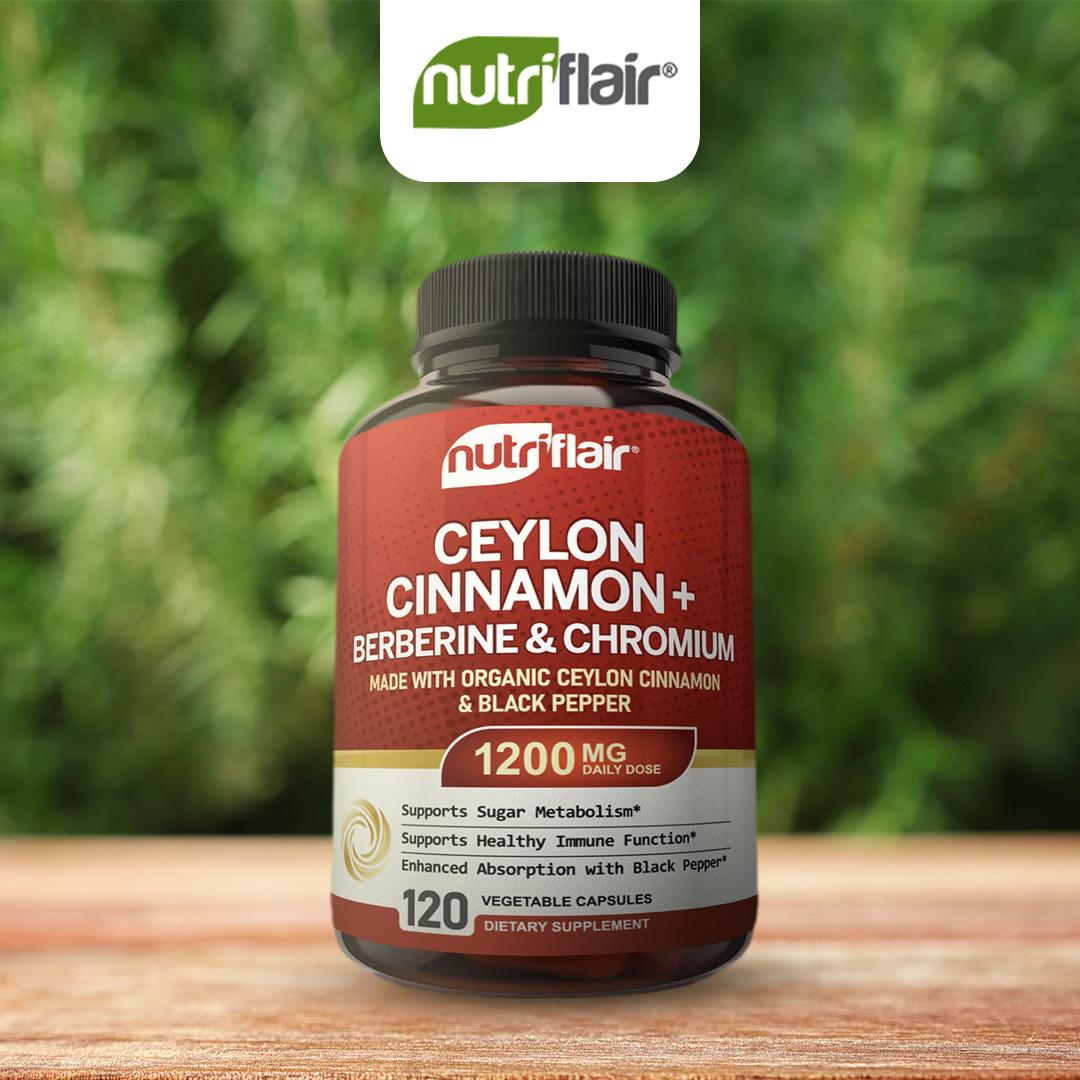 CEYLON CINNAMON
+ BERBERINE & CHROMIUM
This premium, unrivaled product features a healthy combination of True Ceylon Cinnamon, Chromium and Berberine, plus Black Pepper Extract to ensure maximum absorption.
✓ Thousands of Happy Customers
✓ Fast FREE Shipping on All U.S. Orders
✓ 100% Money Back Guarantee
OVERVIEW
___
Made using top grade ingredients sourced from Sri-Lanka and finished in the USA.
Ceylon Cinnamon + Berberine & Chromium contains a healthy mix of Ceylon Cinnamon,
Chromium and Berberine, plus Black pepper extract. Supports healthy weight management;
often combines with milk thistle, Curcumin, Silymarin, Ceylon cinnamon,
lions mane mushroom, or alpha lipoid acid.
✓ NON - GMO          ✓ Gluten-Free          ✓ Dairy-Free        ✓ No Artificial Color Or Flavors        ✓ Vegan        ✓ Sugar-Free 
DETAILS
_____
Suggested use: Take 2 capsules daily with a meal or as recommended by a healthcare practitioner.
Storage Information: Store in a cool, dry place away from heat and light.
Caution: As with any dietary supplement, consult a healthcare practitioner before using this or any other product if pregnant, nursing, trying to conceive, taking medication or have a medical condition. Discontinue use if hypersensitivity or allergy occurs. Keep out of reach of children. Do not use if safety seal under cap is broken or missing.
CUSTOMER TESTIMONIALS
_____________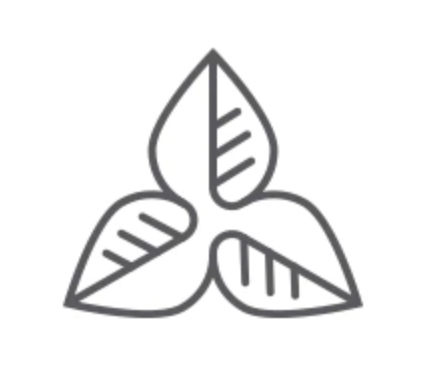 All Natural
Here at NutriFlair, quality is our culture. All of our products are manufactured in the USA, FDA-registered, approved, and inspected state-of-the-art facilities, with strict adherence to current Good Manufacturing Practices.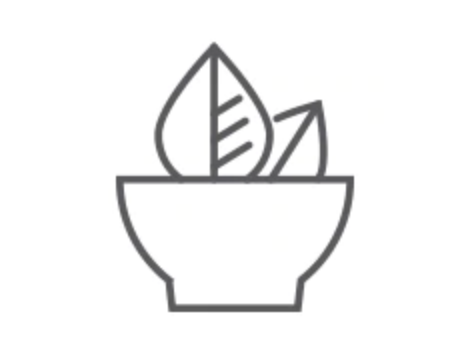 Simple Ingredients
We take pride being one of the best and most trusted brands in the industry. Our finished products are further tested and certified by a third-party lab for quality, purity, and potency.
These statements have not been evaluated by the Food and Drug Administration. This product is not intended to diagnose, treat, cure, or prevent any disease.